Sometimes I'm asked, "What pen do you use?" or "What kind of pencil is that?"  or "What kind of tablet do you like?" I've been asked about my art supplies so much now, that I think it's helpful to provide a blog post about the topic.
Before I go into my art supplies, I need to say that it doesn't matter what tool an artist uses, it's the artist behind the tool that matters. While working with good art tools is nice, it's the artist's fundamentals that provide the foundation for great art.
It would be too long of a post to talk about all of my art supplies. So for now, I'll show what art supplies I use for my inkwork and for when I sketch on the go. I also provided links below to each item in case you're interested in finding them for yourself.
Winsor Newton Series-7 brushes
When it comes to brushes, I found these to be best to work with. A Kolinksy sable is a species of Russian weasel, and the brushes are made from the hairs of the male sable's winter coat. Sounds really pretentious I know, but these brushes are a lot of fun to work with. They maintain their shape and have a great snap to them. I started using them a couple years ago when I was learning how to ink. There are other manufacturers that make Kolinsky sable brushes, but the lesser quality ones will have a mixture of female sable hair which isn't as good as a brush made from male hair. Like I said before, these are the ones that I enjoy working with the most. For more information about Kolinsky brushes, you can read this article here.
If you're interested in what brushes I use, here are the sizes: size 0, size 1, and size 2.
Pentel Pocket Brush Pen
The Pentel Pocket Brush Pen is made for sketching on the go featuring a vinyl brush tip and a refillable ink cartridge. When you run out of ink, you can refill it by purchasing replacement ink cartridges, or refill an empty cartridge with your own ink. I normally fill my cartridges with Speedball ink (see below), and I even inserted a small steel bearing that I use to help stir the ink in the cartridge. You can check out the Blick's website for the pen
 and the refill cartridges.
Yasutomo Sumi Ink
Sumi ink is an ink made from vegetable soot, and it leaves a nice matte finish. For now, it's what I use for my traditional pieces, and I love it when I get to make large swatches of black. It does take a little bit of time to dry, so I tend to use a heatgun to speed up the process if I'm working with big swatches of wet ink.
A little warning: do NOT fill up a pocket brush pen with this ink. It will clog and ruin the flow of the brush pen. I filled my first pocket brush up with this ink and ended up with a clogged brush. After cleaning out the ferrule multiple times, I had to throw it away and buy another one. There are other artists who've been successful with sumi by diluting, but my recommendation is choose an ink with finer granules. Yasutomo sumi ink usually comes in the 2oz bottle, but some stores will carry the 12 oz
.
Speedball Super Black India Ink
This is the ink that I use for sketching and my pocket brush pen. It's not quite as opaque as sumi ink, but since it's only for sketching, it's good enough for me. It's flows really well in the
Speedball Super Black also comes in a 2oz, or you can load up with a 16oz, or even a quart!
Masking fluid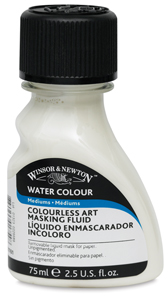 For my more elaborate pieces where I need to block out areas of white, I'll resort to using masking fluid. Masking fluid is a liquid that dries to a waterproof finish which you can remove later by lightly rubbing it with your fingers or with an eraser. To spread the masking fluid, I normally use an old brush that I will eventually discard. Once that masking fluid dries on the brush hairs, it pretty much renders it useless. I usually soak the brush in a mixture of water and dish detergent, but I've also heard that soaking the brush in vaseline also does the trick. It takes a little planning to use it effectively, but it's so much fun when you get to remove it at the end! You can find a bottle over at Blick's.
Uni-Ball Signo White Gel Pen
I recently picked this up at a Japanese bookstore in San Francisco, but you can probably find it in most Japanese boutique stores. It's nice for adding highlights and lines over dark areas without having to resort to masking fluid especially if I'm drawing on the road. You can pick up a 3-pack on Amazon.
Drafting Pencil with Blue Photo Lead
I mentioned this pencil in an earlier Instagram post a few days ago about the tools that I use. The "photo-blue" term refers to the pencil lead's ability to be photographed or copied. The blue lines that the lead leaves behind isn't picked up by a copier as easily. These days, cameras and scanners are sophisticated enough to pick up the blue lines. But if you're inking your blue lines for a black and white drawing, the blue lines can be easily removed through post-processing on a computer.
I actually didn't go out and buy this pencil on my own, it was actually a hand-me-down from my wife from her architecture supplies. You can use anything lightly colored for a rough drawing, but I've gotten used to this pencil over the years. You can purchase the lead holder and the photo-blue lead on Amazon.
Muji Pen
Sometimes you need something to jot down some notes. Or sometimes, you feel like doodling with something besides brushes. And sometimes you want to jot down notes and sketch at the same time! I could use a regular ball point pen to do this, but I really like the way a Muji glides! They also come in different colors in various tip sizes. They even have refills for their gel pens. You can find them in multi-packs on Amazon or you can purchase them individually on Muji's website.
Kuretake Water Brush Pen, Medium
When I first started working with ink, I was using this brush filled with India ink. Needless to say, it was rough going before I discovered real brushes, but I still keep this guy around for washes and smudging after I place my watercolors. They also come in other tip sizes and shapes if you want more variety. You can find this particular size on Amazon.
Lihit Lab Smart Fit Pen Case
I recently came upon this in a small bookstore in Hong Kong, and it's one of the best purchases I've made! I've been looking for a pen case for a while because I've been wrapping up all of my pencils with rubber bands. This pencil case allows you to also fold it into a stand so you can hold your pens upside down to recharge them. Sometimes I just like folding it into the stand just 'cause. You can find this pen case on Jet Pens.
What are your favorite inking tools and the drawing tools? Share in the comments below!